Charm Your Friends With My Gorgeous Wood Craft Gifts Handmade From The Amazing Arbutus Tree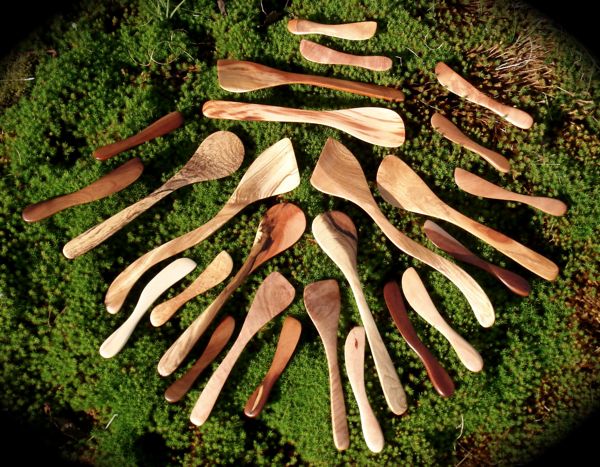 • Cook like a Master Chef with my Arbutus Tree wood utensils...

• Serve food and salads with my stunning wood salad sets and servers...

• Enjoy the beauty of its magical wood in jewelry or letter openers and keychains...

• Discover both the Beauty of the Arbutus Tree, also known as the Madrone Tree, and its Exotic Hardwood, and my Hand Carved Art and Homemade Wood Crafts!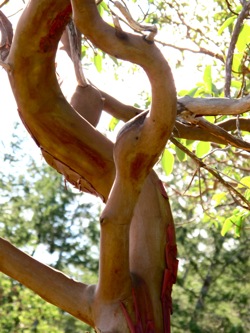 You will learn all about one of the most exciting, mysterious and sacred trees in the world and the gorgeous Madrone wood hidden inside.

You will find here a wide range of wood craft gifts that showcase its secrets and inner beauty.

And you will thrill to see the amazing habitat and blessings of visiting this part of the BC Gulf Islands.

So sit back, explore and enjoy the story...

~~~~~~~~~~~~~~~~~~~~~~~~~~~~~~~

The Arbutus Tree Has Several Names:

• the Madrone Tree
• the Madrona Tree
• the Strawberry Tree
• Arbutus Menziesii
...all are the very same tree!
As a domestic hardwood, Arbutus wood rivals any imported or exotic hardwoods. Its wide range of grain colors and textures is unmatched, yielding strikingly beautiful wood gifts to the delight of many.
Arbutus Arts creates wood craft gifts from this spectacular Arbutus wood. These eco friendly gifts are ideal choices for those special occasions demanding something unique or for a souvenir from the coast of British Columbia.
Made from eco friendly wood from forest fall downs and dead trees, they include wooden cooking spoons, wood knives and salad sets, and a whole lot more...like green home products and green eco friendly fashion wood pendants and necklaces.
We have great gifts for women and unique men's gifts (some say unusual men's gifts!...check out our dagger letter openers). Left handedness is often a barrier for buying gifts --- we specialize in many left handed gifts. Are you looking for unique wedding gift ideas? You'll find them here!
Wood carved art, rustic wood crafts, exotic wood sculptures ... all are unique homemade wood crafts with a flare for style and functionality.
Please view these examples of our Arbutus wood craft gifts and I am sure you will find something you like: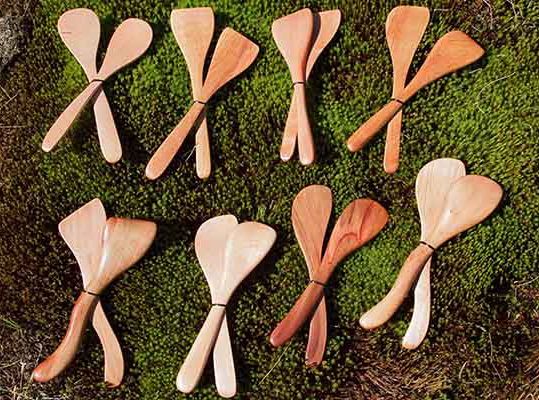 • wooden salad sets and salad servers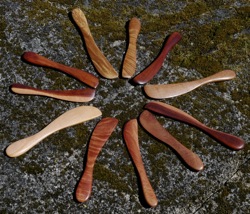 • wood spatulas and wood cooking utensils
• food servers in all shapes and sizes including left handed items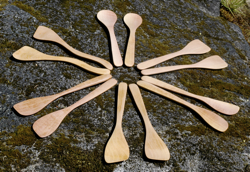 Hand Crafted Wood Art and Designs
If you are looking for very special wood wedding gifts or wood craft gifts, then Arbutus Arts is the place for you. If you want unique gifts for women, then read on!
If you love wood products, then these wood carvings made from the Arbutus tree will delight you as it has many thousands already!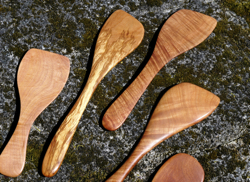 You can be sure you can find a rare and special gift that will be treasured for years and years.
Our Arbutus Arts Culinary Collection features spectacular wood polished to 3000 grit for exquisite beauty. Form and function meet in these treasures.
Professional chefs and home cooking lovers will delight in our special and unique designs...made for both function and hand comfort.
Our pieces quickly become the favorite utensil! Do you love cooking? Our hand crafted special designs will delight you with their superior performance.
Our utensil products are ideal for both serving and cooking as the Arbutus tree wood is so hard, and will last for a long long time. Sometimes it makes me wish I sold chocolates so you had to come back for more all the time! :)
There is nothing better than wood as the finest material for cooking and serving your food! Used throughout the ages, wood has proven to be the perfect cooking and serving utensil.
Still today, wood wins for its beauty and functionality. It sure beats plastic for its non-scratch performance!
Wood, non-scratch serving utensils are also ideal non-stick utensils when kept well oiled with a food safe wood finish.
Have you got fine dinnerware? Then you need the best servers for those culinary delights. Our wood servers and salad sets will make your bowls and serveware stand out with the glory of fine wood.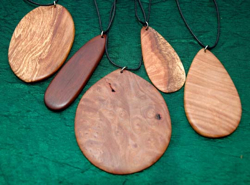 We save the very rarest Arbutus wood selections for our wooden sculpture, jewelry, earrings, pendants and keychains. Make a unique fashion statement from this wood's natural beauty. Each piece of this Arbutus wood (or Madrone wood) is exceptionally gorgeous. And each piece is a one of a kind handcrafted gem.
Be sure to check out our West Coast Whale Knife, made in the shape of a whale to honor our killer whale friends, also known as Orca Whales, that the Arbutus Tree watches down from its heights on the bluffs overlooking the sea.
Do you want a special gift that will remind you every day of BC's famous west coast? Then this is for you! Made from Arbutus hardwood, these knives are great for buttering your toast, spreading soft cheese and pate or adding jam! And for nut butters, there is no better spreader!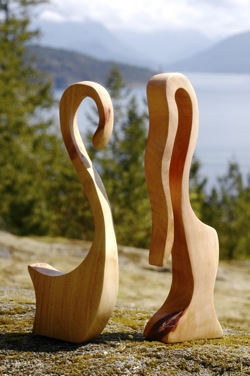 Oh! and they make a superb addition to Christmas food gift baskets or a mother's day gift basket. (And if you really want to delight her, add a pendant or wood salad hands.)
Be creative. Add a wood cheese spreader to wine and cheese baskets or corporate Christmas gift baskets for an exceptional gift.
Made from forest fall downs and dead branches and trees, and from salvaged sources, you can be proud that your gifts come from the most sustainable forestry practices. We do not cut down live trees for our wood...the best wood grain colors comes from dead wood that has changed color after dying on the tree. That's why we can say all our woodcraft gifts are made from eco friendly wood.
And if you love tree poems, then check out these here: Tree Poems
BC or British Columbia's Gulf Islands are home to the rare Arbutus Tree and its cousin the Manzanita tree. These wood crafts have thrilled thousands here on BC's West Coast Gulf Islands and now at last we can bring to the world our fine wood art through this site.
So enjoy your stay and learn all about the Arbutus Tree (Madrone Tree), Arbutus Wood and of course BC's Gulf Islands and our own Gulf Island, Cortes Island, at the entrance to Desolation Sound.
Discover why boaters and kayakers from around the world come to these waters. See Canada's Matterhorn - our Mount Denman - which hovers majestically over the fjords and inlets and islets of these protected waterways.
It is not just the Arbutus Tree (or Madrona Tree) that enjoys the splendid views!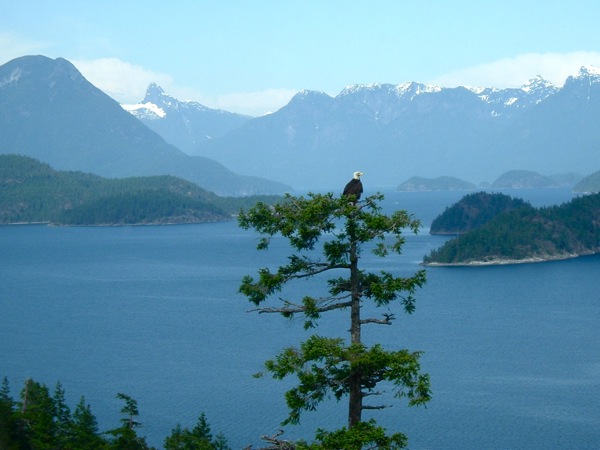 Gorgeous wooden salad sets, wooden serving spoons, salad serving sets, salad hands all made from Madrone wood
Fabulous wood salad hands, wooden salad sets, salad serving sets from Arbutus/Madrone wood
Arbutus wooden cooking utensils, wood kitchen utensils and wooden serving spoons in 4 sizes and 8 shapes perfect for your non stick utensils
Handmade Wooden Spreaders and Wooden Knives, Pate Knives and Cheese Spreaders from Rare Madrone Wood
Rare eco friendly pendant jewlery, sacred pendants, wooden pendants made from the sacred Arbutus/Madrone tree
These handmade wooden earrings from sacred Arbutus tree wood are unique earrings: one of a kind that no one else in the world will have but you!
Handmade unique keychains from rare Arbutus wood in one-of-a-kind shapes
Wooden letter openers, unique letter openers, engraved letter openers, promotional letter openers handmade from gorgeous Arbutus/Madrone wood
Eco friendly gifts that you'll love made from the sacred Arbutus or Madrone tree - completely earth friendly products using dead trees, branches and forest blow downs
Left handedness problems solved here for left handed people with fabulous products for the kitchen and fine dining!
Corporate Christmas Gift Baskets and Corporate Gifts for Christmas With Handcrafted Arbutus Wood Pate Knives and Utensils
Whale toys and whale knives made from food safe eco friendly Arbutus?Madrone wood
If you love Madrone wood, Arbutus wood, Manzanita wood or Yew wood, then you will love these wood craft gifts for sale
Arbutus Wood Crafts For Sale: Help Choosing What To Buy
Arbutus Arts Product Labels for your wooden cooking utensils, wood serving sets, knives, keychains, letter openers, pendants, and wood art sculptures
Why does everyone love the Arbutus Tree? Also known as the Madrone or Madrona tree, it is easily my Favorite Tree.
Magnificent, dramatic, exciting, mystical, inspiring, magical, sensual ... these are some of the words people use to describe their favorite tree, the Madrone Tree of the Pacific Northwest.
While many think the Manzanita tree is the same as a Madrone tree, it is actually a bush!
Yew Trees, Pacific Yew, Yew Wood, Canadian Yew and the Fabled History of the Yew Tree
Native American Sacred Trees: the Arbutus Tree or Madrone Tree in legend of the great flood saved The People
If you love the Arbutus Tree or if it is one of your favorite trees, then check out these tree poems!
Arbutus flower Oh so sweet .... You perfume the air, Oh what a treat! Arbutus flower, you have scent divine!
Why is Madrone Wood also known as Arbutus Wood one of the best exotic hardwoods in the world?
Madrone Wood: The Most Exotic Hardwood in the World?
When I first started carving wooden spoons, you would have to say I was making very primitive wood crafts!
All about food safe wood finish for your wooden utensils with walnut oil wood finish or mineral oil wood finish
Gulf Islands British Columbia: My Favorite Islands!
Cortes Island: My Favorite British Columbia Gulf Island...no wonder it is such an island paradise!
Desolation Sound BC: The Dream Adventure Destination of the Protected Waters of the BC Coast
15 Years to the Top of Mt Denman, Canada's Matterhorn, rising from the sea at the end of Desolation Sound British Columbia
A Whale Tale or Two about Whale Tails and more from the Waters of Desolation Sound
Where to buy Arbutus Arts, Wooden Cooking Utensils and Other Handmade Wood Products
About Ron Bazar: A celebration of Arbutus / Madrone or Arbutus wood by Cortes Island BC artisan Ron Bazar
Arbutus Tree Journals: life surrounded by thousands of Arbutus or Madrone trees
The Arbutus Arts Blog keeps you up-to-date with all additions and changes to the ArbutusArts.com website. Subscribe here.
Subscribe to Arbutus Arts Newsletter
Your Questions and Answers about Arbutus or Madrone trees and wood, and Manzanita and Yew too!
Looking to buy or sell Arbutus-Madrone-Manzanita-Wood-Marketplace or Branches? Then this is your Hardwood Marketplace