Wood Crafts For Sale:
Help In Choosing What To Buy
Arbutus Arts makes lots of wood crafts for sale and so you may find this page helpful in choosing what to buy.
Everyone needs beautiful handmade kitchen ware! It doesn't matter whether it's for home use, or at work. Whether for a dinner party or for simple every day use, everyone will enjoy using such artistic Arbutus utensils.
There is something wonderful about touching wood vs. something artificial. Wood, made by human hands, has an energy field or life energy that you can feel. Our hands just know it when they touch finely crafted wood: it speaks to you in a sensual, inspiring way.
Perhaps too it is the feel of homemade wood crafts that has that genuine uniqueness that so attracts us.
Whatever the reason, find something here you love. Get your wood crafts for sale today and enjoy!

PRODUCT CATEGORIES
• Wooden Knives / Wooden Spreaders:
Arbutus/Madrone Wooden Knives and Spreaders

Manzanita Wooden Knives and Spreaders

Yew Wooden Knives and Spreaders

• Utensils:
Arbutus/Madrone Wooden Salad Sets / Wooden Salad Utensils

Arbutus/Madrone Wood Servers/Spatulas, Wooden Cooking Utensils

Arbutus/Madrone Wood Salad Hands

Left Handed Gifts and Utensils

• Accessories:

Wooden Pendants / Sacred Necklace
Wooden Letter Opener / Dagger Letter Opener
Toy Knife / Whale Toys / Whale Knives

• Arbutus Art:
Art Wood Sculptures
QUALITY SELECTIONS

Most of what I make can be chosen from three grades:
• Deluxe Selection...good
These pieces are selected for the niceness of the wood grain. They are sanded to an extra-fine deluxe finish. Very popular choice for an inexpensive yet delightful hand crafted gift.
• Ultra Selection...better
The top 10% graded from the best of the Deluxe Selection finished to an ultra smooth 1500 grit sanding, then oiled and waxed. For a special occasion or wedding gift, this is a fine choice.
• Supreme Selection...best
Artist's choice. Chosen for the rarity of the wood grain, coloring and elegance. Polished to an incredibly smooth 3000 grit sanding, then oiled and waxed. The exquisite beauty of Arbutus is exemplified in this functional art. Where only the very best will do!
For most people who want a very nice handcrafted gift or souvenir, I would recommend the Deluxe Selection as your choice. It is the optimum combination of a very smooth, nice grain with an affordable price point. So if in doubt, choose Deluxe. It's my biggest seller of all my wood crafts for sale and makes great gifts for women and men alike.
The Ultra Selection has a richer tone, finer grain and an even smoother finish. This is the perfect selection for a special gift, whether a women's Christmas gift or birthday gifts that will stand out. Wood pate knives or wood keychains would also make a fantastic addition to corporate Christmas gift baskets in this grade.
The Supreme Selection is for the most special of occasions where a life long quality gift is desired that will stand out and be cherished for years of happy use. These pieces are only available when extremely rare pieces of wood are found to make them.
Much less than 1 in 100 pieces that I make can be classified at this high level of rarity and exquisite finishing. These wood crafts for sale are made from rare Madrone burl wood or specially magical grain variations.
Some occasions where such a beautiful gift may be appropriate include:
• green wood wedding gifts
• anniversary wood gifts
• Christmas food gift baskets

Please click here to see the different labels for each grade.

~~~~~~~~~~~~~~~~~~~~~~~~~~~~~~~~~~~~~~~~~~~~
Please Note:

All Arbutus Arts wood crafts are unique. No two pieces are exactly the same. Variations in wood texture, grain and coloring affect the final outcome and "signature" of the item. It will match the shape you see but the actual coloring will have variations from what you see in a picture on the site. This reflects the special attributes of the wood.
The same holds for sets. The two pieces will match but with slight variations as above plus slight finishing and sanding differences. No two pieces are identical. Hey and that's great! Just like us! Unique and special! That's what you'll get :)
~~~~~~~~~~~~~~~~~~~~~~~~~~~~~~~~~~~~~~~~~~~~

SIZE
The size of your wood craft gift is important to know because you want the ideal size for your needs. So here are some tips on choosing your size...
1. For cooking, what size of pot, pan or wok do you use?
The bigger the size of the pot, then the bigger should be your wood cooking utensil. Usually the more people you cook for the bigger the pots, the bigger the wooden cooking utensils needed.
2. Cooking style: in general using a wok will require a bigger size as will French style stirring (holding the shaft lower down and in the crock between thumb and forefinger palm facing up as you stir).
For frying, a straight or angled straight blade would be ideal.
3. For serving, choose a size that matches your serve-ware. So if you have a big salad bowl as an example, then a Large or Extra Large size is ideal. For one or two people, Small is good or perhaps Medium. Or choose wood salad hands, good for all sizes.

SHAPE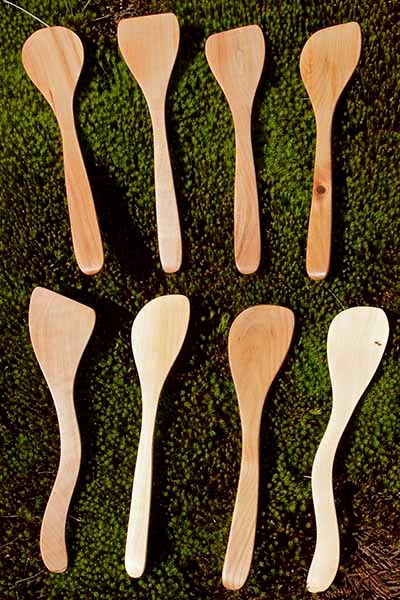 My Wood Crafts For Sale

This is where you can have some fun! You can choose a traditional shape...spoon-like or spatula-like or a hybrid...these are shapes that have the blade at an angle or are rounded with an angle. These are superb for comfortable cooking or serving.
For something more exotic and to remind you of the curves of the tree, you can choose a style that has a curved handle and or a curved handle and an angled blade together!
People love these and I sell lots of them too.
If it is a gift for someone else, then, if they are more traditional in lifestyle, sticking with a traditional shape may be wisest; for the more adventurous, an exotic shape will win accolades.
And do remember that the shapes you see are for single wood servers either for the right hand or as a superb left handed gift! And they also come as salad serving sets.

HOW I MAKE My Beautiful Arbutus Arts Wood Crafts For Sale:
This insight may also help you decide which is suitable for you.
My Arbutus Arts homemade wood crafts come a long way from the forest to you in many painstaking steps. Each wood craft gift is formed from dead branches and trees or fall-downs from the Arbutus tree.
Arbutus contains perhaps the most varied grain coloring of any tree in the world from ivory white to reddish black with infinite shadings in between!
Most of the wood, however, is a lovely light colour to pale brown. The richer the grain and the fuller the colouring, the rarer is the piece of Madrone wood. Burl wood is the rarest of all because old trees make large burls, and these are quite rare.
30 Steps to Treasure>>>
>>>Here is the process I undertake to create my gorgeous Madrone wood crafts for sale:
1. Search the Arbutus forest and bluffs to locate and select ideal dead branches and tree fall-downs.

2. Cut selected branches into transportable pieces.

3. Haul selected pieces manually out of the forest to studio workshop (mostly by hand as no roads in the bush!).

4. Carefully scrutinize all pieces to determine quality and artistic potential, then process those pieces into manageable widths.

5. Rough cut wood to general shapes following the natural forms in the wood.

6. Precisely shape each Arbutus piece to specific requirements.

7. Do first coarse sanding to remove all marks and imperfections with 60 grit very rough sandpaper. I work in large batches at this point and do all the pieces along each step of the way.

8. Rough sand with 100 grit sandpaper.

9. Fine sand with 150 grit (the higher the number the finer the sandpaper).

10. Sort for Functional Selection and Deluxe Selection.

Please note: I do not offer the Functional Selection for sale here as they often have some flaws in the wood, so I sell them in local markets. Usually 20-40% are removed from the batch of pieces as Functional, allowing only the best ones to remain and move up the grading process to become Deluxe or better.

11. Finish Functional Selection with natural walnut oil (a perfect food safe wood finish and a great drying oil).

12. Very fine sanding of remaining better pieces with 220 grit sandpaper. These will become my Deluxe Selection or better.

13. Extra fine sanding of the Deluxe Selection with 320 grit.

14. Extremely fine sanding with 400 grit.

15. Extremely, extremely fine sanding with 600 grit.

16. Finish Deluxe Selection with natural walnut oil, my food safe wood finish. Allow to dry overnight.

17. Critically sort and select unique pieces based on grain richness for the Ultra Selection. Approximately 10-15% of the Deluxe ones move up.

18. Sand Ultra Selection with 1000 grit ultra fine sandpaper.

19. Sand Ultra Selection with 1500 grit (ultra, ultra fine).

20. Gently apply second coat of natural walnut oil and allow to dry overnight.

21. Again critically sort and select the best of the best - the top 10-15% of the Ultra Selection - for their rarity and exquisite beauty for the Collectors Selection (this grade is offered only to Gallery stores and not available on the site).

22. Apply natural beeswax and oil combination to Ultra Selection and allow to dry. Then polish to a nice smooth finish. The Ultra Selection is now finished.

23. Sand Collectors Selection with 2500 grit (ultra, ultra, ultra fine!).

24. Sand Collectors Selection with 3000 grit for a silky soft finish!

25. Apply third coat of natural walnut oil wood finish and allow to dry overnight.

26. Select only the very very best of these beauties for the Supreme Selection: These are my "artist's choice" and available only as the rarity of the wood allows.

27. The Collectors' Selection is then finished with natural beeswax and walnut oil.

28. Polish Supreme Selection again for the smoothest finish possible!

29. Apply natural beeswax and walnut oil combination and allow to dry.

3o. Final stage hand polish yields finished, velvety smooth, Supreme Selection, my treasures!
Lots of loving care and attention goes into my one-of-a-kind wood crafts for sale! I am sure you will enjoy them as much as I do making them. Let me know if you have any questions.

Arbutus Ron ... smiling from Arbutus Heights :)


Return from How To Choose Arbutus Wood Crafts For Sale to Home Page