A Whale Tale or Two about Whale Tails and more
from the Waters of Desolation Sound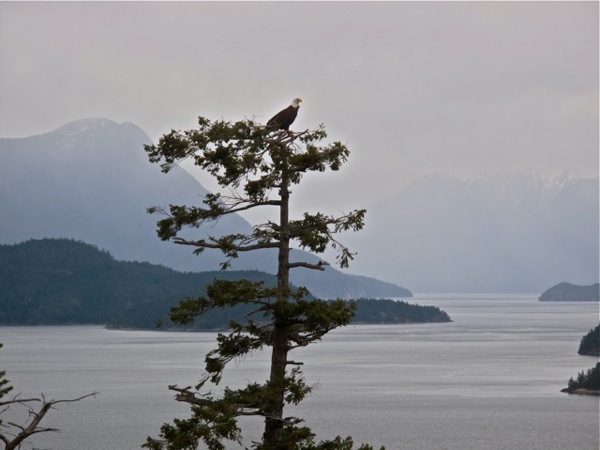 This is a true whale tale!
One gorgeous hot summer day with blue skies and sweet breezes, I was out fishing for salmon in my kayak east of Mary Point at the entrance to Desolation Sound BC.
My favorite fishing hole above a reef was under the high tide and it was a good time to catch supper!
I was facing inland jigging for my catch, being lulled into a trance by the warm summer sun and gentle breezes. An eagle's perch had eagles coming and going scanning for supper on the horizons with their eagle eyes.
Every now and then they would take off and come back with a catch.
The gentle rolling of the sea was making it hard to keep my eyes open. My lids were heavy with that wonderful, warm afternoon all-is-well-with-the-world feeling.
It was so quiet and peaceful you could easily hear the beating of the wings as ravens flew by chasing each other.
Suddenly from nowhere I hear a huge noise, a rushing of a sound behind me out to sea. I swing around to check what it was that had startled me so!
Lo and behold about 100 feet away, a pod of Orca whales, also known as killer whales (they like eating fish and seals!), were swimming by, rising up and down out of the water. As they came out they blew air out of their blowholes. That was the sound that had almost exploded in my ears they were so close on such a calm day!
What a sight, about two dozen swam slowly by in no rush heading south. Up and down they went in and out of the water in that whale swimming style. Whale tails were the last thing to see as they dove back in under the sea.
I had never seen a whale pod before and I knew this whale tale would be my first and best!
It took several minutes for all the Orca whales to pass and then they were gone. Just the excitement remained in me. I turned around and started fishing again. About ten minutes later I heard that whoosh of a sound again as another whale pod went by!
This happened a total of three times in all. What a thrill for me and now I get to share with you this whale tale.

More Whale Tales
A Whale Of a Tale
When my friend Ron first came up to visit me on Cortes Island, we had perfect weather.  He seemed always to be able to bring that with him when he visited!
We went out in my double open kayak fishing on one of those days where the sky was so blue and the sun glistened on the water, sparkling in tiny beams of light. Not a breeze to stir the calmness of the surface. 
We went out to my favorite salmon fishing spot, a reef that dropped deeply off of a small island just a little ways from our bay. We fished and fished but had no luck but we didn't care!  We were out in the glorious sunshine surrounded by the splendour of nature that Ron just so much loved.
Suddenly behind us we hear a "whoosh" sound and turn to see a whale pod going by maybe 100 feet away! All sizes coming in and out of the water swimming together and blowing air out of their blow holes.  It was so incredible! 
Ron was so excited!  He couldn't believe he had witnessed that.  10 minutes later another pod came by and 20 minutes after that a third pod!  It must have been almost all the northern Vancouver Island whale pods going south.
But that was not all we saw on that momentous day that lived always in the memory of Ron that he loved to tell others about...
...Watching us and the Orca whales all this time was a large eagle sitting on top of a tree over the ocean just above us.  Suddenly she took off at full flight over us flying all the way across the open water, about a mile, in no time flat. 
"What was she up to?" we said to each other. She swooped down and dove onto the water and grabbed something and flew back to the tree in a flash with a fish in her mouth. We were just so amazed at the incredible eyesight of that eagle who could see from so far away her dinner, fly there, catch it and be back all within maybe a minute!
The eagle eye...nothing like it on the planet!
To top off the day, we did catch fish, using an uneaten minnow in the mouth of the first fish caught to catch the second cod!  We paddled home, and cooked those fish up right away. Did we enjoy that!
....that was our fishing story and a fine whale tale to boot, that we told over and over, relishing and glorying in a most perfect day!
-----------------
Giant Orca Whale
Several years later, I was coming back from fishing and just about to enter our bay when behind me I heard that whoosh sound...the blowhole again!
When I turned around to look, I saw a giant Orca whale! And I mean giant! His dorsal fin was so big it looked like a sail! and for a moment I wasn't sure if it was actually some kind of a sail boat!
When he dove down and came back up I could see how massive he was. That fin looked like a sail for sure! He was a loner, no whale pod to be seen.
He was very close to me, about a hundred feet or so. He went down and up again, stayed on the surface and then dove with his whale tail waving goodbye! That was the last of him as he headed north towards Kinghorn Island and Desolation Sound.
Another true whale tale and another reason why I love living here!
-----------------
Caught in a Whiteout Whale Tale
My friend and neighbour Ann told me an incredible whale tale!
She was in Campbell River BC getting her small aluminum boat and heading back to home on Cortes Island.
Soon after leaving the dock, low clouds and fog moved in and she was suddenly in a complete white out not sure which way to go and not knowing up or down as whiteouts do to you.
So she shut the engine and drifted slowly as there was no breeze or tide running.
Not knowing what to do she waited.
After a while, out of nowhere came a pod of Orca whales right up to and beside her boat, gently making sure not to endanger her!
She had the idea to follow them for they would not head to land and she would be safe. So she started the engine and right in the midst of the whale pod went where they went.
About an hour passed this way following the whale pod which surrounded her boat, still in the deep fog and not knowing where she was going.
At last the mist started to lift a bit and she could see a touch of land now. The whales then took off at speed leaving her by herself.
She now could see more clearly where she was. They had brought her all the way home right to Tiber Bay on Cortes Island! All she had to do was go a few hundred yards to the dock!
This was a journey all the way around Quadra Island BC, past Twin Islands with many hazards to be avoided at the best of times and an hour journey as well.
Safe and sound. Home at last. And with an amazing whale tale to share!
Perhaps one of the whales remembered her! You see, Ann had a strong connection with the whales. Years earlier she and her friend Paul Horn (now they are married) went out in a boat and recorded their flute playing and singing with the whales for Greenpeace. Whale music. Something magical about that!
Click here to go to their whale music selection...
-------------------
It was these experiences that inspired me to make whale toys...
...what I ended up designing fitted perfectly with my Arbutus or Madrone wood culinary crafts (my wooden salad sets, salad hands, kitchen utensils and more)...
It was a knife in the shape of a whale for kids to use and a souvenir for visitors. I call it the West Coast Whale Knife...
So now it's your turn. Please do tell us all about your amazing whale tale in the section below.
Tell YOUR Whale Tale Here Now!
If you have been blessed to see whales in the wild, then you gotta have a great story or pictures you can share...

...here's the place for you to do that!

Please share it here!

It's easy to do and lots of fun!

And you'll have your own web page to send friends and family to check out.
What Other Visitors Have Said
Click below to see contributions from other visitors to this page...

Enjoying three pods of whales Not rated yet
In early Sept. 2006, we had our father-in-law and his new wife (both in the 80's) aboard, off the west side of San Juan Island, and we were there hoping …
Orca Whales Not rated yet
Just before the last New Moon, over the course of a few days, the spirit of the Orca whale visited me in my dreams and in my waking hours, through the …
Go from Whale Tales to Arbutus Arts Home Page