Handmade Unique Keychains
~ One-of-a-Kind Shapes ~ 

Rare Arbutus/Madrone Wood


If you want handmade unique keychains like you have never seen before, then you have come to the right place!
Made from rare pieces of Arbutus wood, these wood keychains will give your hand something wonderful to hold.
You will find a gem in the one-of-a-kind shapes and sizes that I offer. Not only will they hold all your keys but you will have a smooth and gorgeous piece of wood to hold and touch.
Touch wood! Hold your keys! And have something special all at very affordable prices for a handmade treasure.
Take a look at these shapes. You won't find these anywhere else! And they come in three different grades so you can have a special gift for men or women that you can give for any special occasion.

Shapes and Sizes:
You have 10 shapes to choose from. The heights listed give you the approximate dimensions, which do vary a bit due to fine sanding differences.
See the images in the photo at the top of the page or below for examples.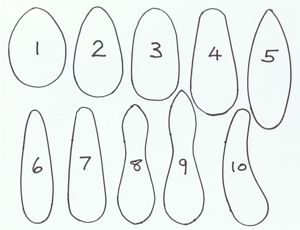 #1 oval: 2.75" or 7cm
#2 oblong: 3.25" or 8cm
#3 balance: 3.25" or 8cm
#4 grip: 3.75" or 9.5cm
#5 kayak: 4.25" or 10.5cm
#6 slim: 4" or 10cm
#7 slim plus: 4" or 10cm
#8 figure 8: 4.25" or 10.5cm
#9 figure 8+: 4.75" or 12cm
#10 curved: 4.25" or 10.5cm


Grades:

All pieces of Madrone/Arbutus wood are not created equal...
...As you may know from other pages on this site, a wide range of grain coloring exists resulting in different grades depending on the rarity of the wood:

• Deluxe Selection...good
Examples of this grade are on the right...
...they sort of match the shape numbers above.
(I must have erred a bit on this photo but the shapes will match the numbers when you buy!).
An economical and excellent choice for a great wooden keychain.

• Ultra Selection...better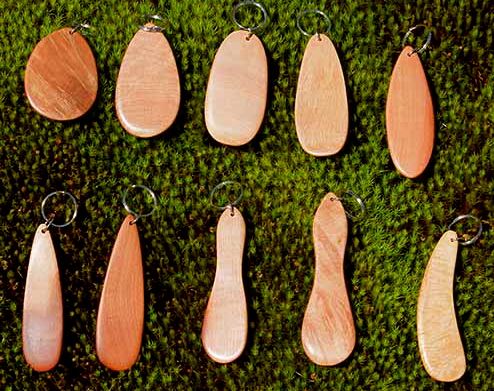 You can see these Ultras are richer in tone and finish than the Deluxes,
although it is hard to see the differences in this photo.
They are richer and have more complex grain patterns and colors.
They are also sanded a bit smoother.

All the wood keychains are finished with water resistant natural tung oil.

• Supreme Selection...best

The image at the top of the page shows you good examples of my Supreme Selection of unique keychains.
Only the rarest pieces of exotic Arbutus/Madrone wood are used to make these wood keychains.
In addition to the wood, the degree of fine finishing adds a quality dimension.
The higher the grade, the smoother the finish.
They are all smooth, but the Supremes are, well, just extra smooth, from all the added sanding!
Please click here for more details about the grades available if you want to learn more.
Here is a picture of the Keychain label that comes attached to each keychain: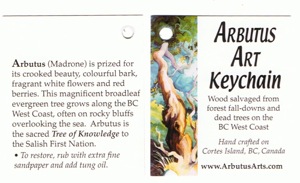 Label Info:
Size: card is 2 sided with a hole in upper left corner to attach to products with a supplied twist tie.
Dimensions: 1.75in x 2in or 4.5cm x 5cm
Care Instructions: on card
Material: stiff cardboard

~~~~~~~~~~~~~~~~~~~~~~~~~~~~~~~~~~~~~~~~~~~~~~~~~~~~~
Unique keychains for that special occasion...

Unique keychains they are indeed and you will find them to be one-of-a-kind treasures!
Try these unique keychains for any of these ideas or occasions:
• unique gifts for women
• women's Christmas gift
• women's birthday gifts
• great gifts for women
• unusual birthday gifts
• unique men's gifts
• men's anniversary gifts
• men's unique gifts
• in a Mother's Day gift basket
• women's Christmas gifts
• gift ideas for men
• in corporate Christmas gift baskets
• Christmas wood crafts
• eco friendly gift

Enjoy the pleasure of having a wonderful silky-smooth and completely unique keychain to hold and carry your keys!
Touch wood! :-)
~~~~~~~~~~~~~~~~~~~~~~~~~~~~~~~~~~~~~~~~~~~~~~~~~~~~~~~
Arbutus Arts...
Hand Crafted from the BC West Coast's Spectacular Arbutus Wood
from windfalls and dead trees: Eco Friendly Wood at its best!
~~~~~~~~~~~~~~~~~~~~~~~~~~~~~~~~~~~~~~~~~~~~~~~~~~~~~~~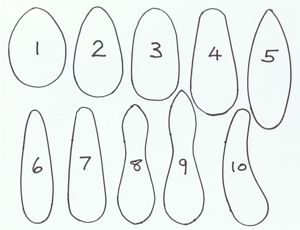 ARBUTUS/MADRONE WOODEN KEYCHAIN:
~~~~~~~~~~~~~~~~~~~~~~~~~~~~~~~~~~~~~~~~~~~~~~~~~~~~~~~
Go from Unique Keychains to Products Shopping Page