Sacred Trees: Arbutus (Madrone) Tree
As far as sacred trees go, this story shows why, amongst all the trees of the Pacific northwest, the Arbutus or Madrone Tree holds the title of most sacred tree to the original inhabitants of this vast region.
In the legend of the great flood, the Salish First Nation describe how the Madrona tree provided an anchor for their canoes to hold steady and not drift away.
And that's why, to this day, they don't use the Madrone tree as firewood.
It is their way of thanking and honoring the memory of the refuge and survival for the People it provided long ago.
Isn't it amazing how so many indigenous peoples around the world have a story of the great flood?
On the British Columbia West Coast, the Salish Nation also honors the Arbutus Tree as their Tree of Knowledge because it knows how to find the sun.
It twists and turns and somehow knows to drop one branch when there is not enough sunlight and it is shaded and it will grow a new one where the sun can reach it.
It explains why there are so many incredible features on the trunks of Madrona trees.
Perhaps that is why I love the Arbutus tree painting on the right by Dianne Bersea of Cortes Island BC. (Click on it to go to her site.)
Somehow she captures, so eloquently, all that is magical and mysterious, and symbolic and sacred about this amazing tree.
Poet Richard Olafson shares another Native legend, writing, "The tree's webbed roots hold the splintered earth together."
If the Arbutus should disappear, the myth warns (whether from fungal infection, habitat loss or some other cause, man made or otherwise), the planet would fly apart and be utterly destroyed.
The Arbutus tree is also known as the Tree of Depth and Integrity,
and is symbolic of protection and safety (obviously from the flood myth).
Madrone stands for the balance of darkness and light.
No wonder the Arbutus tree is a Native American sacred tree and is still revered.
It has an energy about it that attracts people to it. Probably this explains why, to so many, it is their favorite tree.
I call it The Spirit of Arbutus. There are times when there is something almost magical about the tree, its shapes and its always changing nature.
In past days the Madrone tree had many uses.
Although bland, the berries were eaten by Native Americans. The small fruits would last on the trees sometimes right into winter.
Infusions of the astringent leaves and bark were used to treat wounds, colds and stomach problems and as a post-childbirth contraceptive.
The berries possess some narcotic properties. Combined with other bark types, it was also used to treat tuberculosis and the coughing up of blood.
They fashioned eating utensils from the bulbous roots and used the berries and bark for dyeing.
Sacred trees: some so long-lived they make a heart!

Working with the tree and its wood has been an inspiration to me. I feel very blessed to live where I do on Cortes Island and have such abundance of Madrone trees all around!
Can you imagine Arbutus-Madrona Sacred Tree seeing this picture below?
It was taken by my neighbour Richard one full moon around December solstice several years ago.
Mt Denman sits at the end of Desolation Sound, BC. What a hike to get to the top!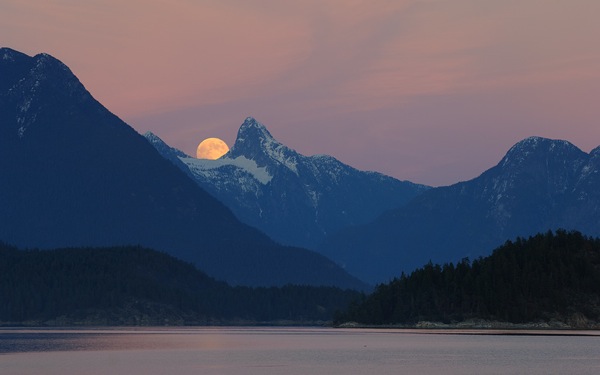 What's Your Favorite Picture or Story about your Sacred Trees?
Where and when did you find that special sacred tree? What kind of a tree was it?

Please share it here!

It's easy to do and lots of fun!

And you'll have your own web page to send friends and family to check out.
What Other Visitors Have Said
Click below to see contributions from other visitors to this page...

Return from Sacred Trees to Arbutus Arts Home Page