Wooden Letter Openers
~ Handmade One-of-a-Kind Unique Styles ~
Gorgeous Arbutus/Madrone Wood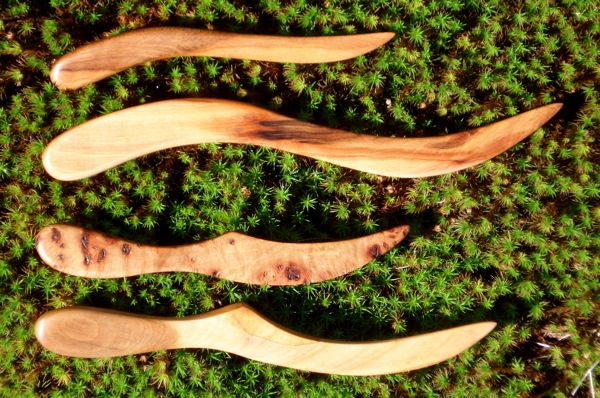 Arbutus wooden letter openers are indeed unique letter openers.
They are made from the prized wood of one of the most exciting trees of the Pacific Northwest, the Arbutus tree or often known as the Madrone or Madrona tree.
Your hand will delight in opening the mail with one of these!
You'll choose from shapes you won't find anywhere else and you'll discover dagger letter openers as well.
They make wonderful unique men's gifts and are perfect unique desk accessories. They are not only functional but also the smooth wood is soothing to hold while pondering those big desk decisions...
...might as well have something fun to handle and play with while at your desk.
Sidebar...
Hi,
The letter openers just arrived. I have to say, "they are beautiful." I'm glad that I ordered one extra. I'll keep it forever...
Sue Christensen
This picture below shows my dagger style letter openers.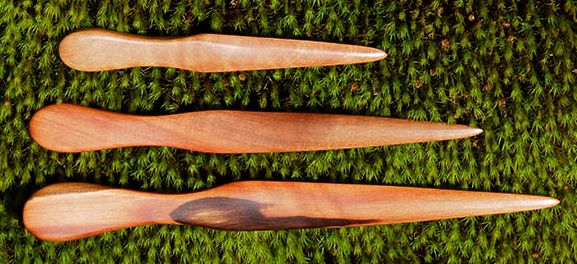 Size
Arbutus Arts wooden letter openers come in 2 sizes: medium and large. The dagger letter openers come in 3 sizes: small, medium and large.
• Small...approx 5-6" or 13-15cm
• Medium...approx 7-7.5" or 17-19cm
• Large...approx 8.5-10" or 22-25cm
Note: daggers are a bit longer sometimes!

The small dagger wooden letter openers are perfect for taking minimal space, can double as a hair stick and is easy to stuff into a purse. My Mum liked this size best as it was easy for her to handle in her later years.
Medium is a nice desk size while the large make a power statement and are lots of fun to occupy your hands. But watch out! The points are very sharp!
You'll love the feel of these unique letter openers. The smooth wood in your hand is quite inviting.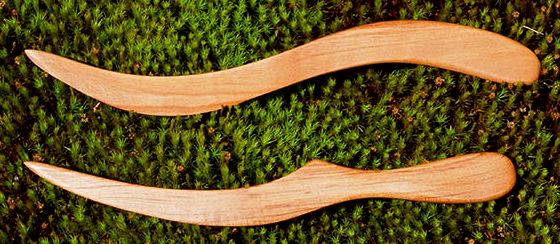 Shapes

• Downward Handle
• Normal Handle
• Dagger


Grades Available

All pieces of Madrone / Arbutus wood are not created equal. As you may know from other pages on this site, a wide range of grain coloring exists resulting in different grades depending on the rarity of the wood:

• Deluxe Selection...good
• Ultra Selection...better
• Supreme Selection...best

Please click here for more details about the grades available if you want to learn more.
Please click here to see the different labels for each grade.
Each wooden letter opener is handmade which means you'll get a unique letter opener that matches what you see in the photos but with variations in grain and coloring.
All letter openers have a natural food safe wood finish: a quality walnut oil wood finish that enriches the grain. The Ultra and Supreme Selections have an additional food safe wood finish of my special combination of walnut oil, beeswax and orange oil.
~~~~~~~~~~~~~~~~~~~~~~~~~~~~~~~~~~~~~~~~~~~~~~~~~~~~~~~

Arbutus Arts...
Hand Crafted from the BC West Coast's Spectacular Arbutus Wood
from windfalls and dead trees: Eco Friendly Wood at its best!
~~~~~~~~~~~~~~~~~~~~~~~~~~~~~~~~~~~~~~~~~~~~~~~~~~~~~~~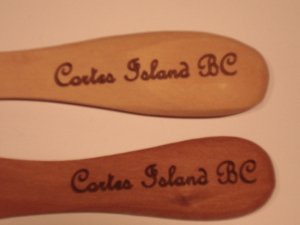 Here is what an engraved handle looks like with your logo and font laser burned into the wood. As long as you can supply digital artwork (PDF), we can have what you want etched forever into the wood.
This is a superb idea for law firms, accounting firms, corporate special occasions and gifts or an occasion like a conference. It can be done on any of our products.
Engraved Wooden Letter Openers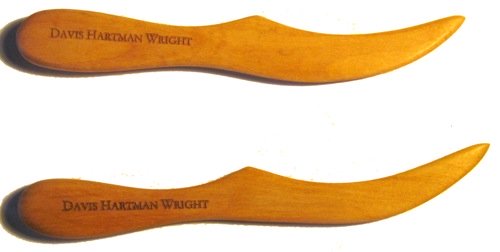 Here is what Brandy had to say about the engraved letter openers you see above that we engraved for her law firm:
"Hi all! Just received the letter openers and they look fantastic! Thank you both so much for such great and quick work, we really appreciate it. Hope your holidays are lovely"
and later she added this:
"By the way, we got wonderful comments from several of our clients we sent them to as gifts, so thank you again."

Special note: re engraved letter openers...please inquire about having your company name and logo laser-engraved into the handle. The minimum quantity for this service is 50 pieces. Please go to Contact Me to send your message.
~~~~~~~~~~~~~~~~~~~~~~~~~~~~~~~~~~~~~~~~~~~~~~~~~~~~~~~


UNIQUE LETTER OPENERS:
DELUXE Selection Arbutus/Madrone Wood LETTER OPENERS:
~~~~~~~~~~~~~~~~~~~~~~~~~~~~~~~~~~~~~~~~~~~~~~~~~~~~~~~

ULTRA Selection Arbutus/Madrone Wood LETTER OPENERS:

~~~~~~~~~~~~~~~~~~~~~~~~~~~~~~~~~~~~~~~~~~~~~~~~~~~~~~~

SUPREME Selection Arbutus/Madrone Wood LETTER OPENERS:

~~~~~~~~~~~~~~~~~~~~~~~~~~~~~~~~~~~~~~~~~~~~~~~~~~~~~~~


Go from Wooden Letter Openers to Wood Craft Gifts Page
Have Feedback On Your Purchase? Let Us Know!
Please share it!