Gorgeous Wooden Salad Sets
~ Wide Variety of Shapes & Sizes ~
~ Perfect for Serving! ~ 

Arbutus/Madrone Wood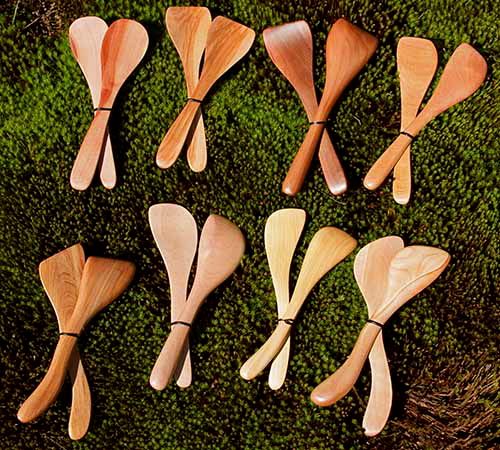 There is something wonderful about using my wooden salad sets!
Maybe it's the smooth warm feeling of the Arbutus/Madrone wood in your hand. Or perhaps it is the exotic shapes or the different sizes to match your salad or serving bowl.
My Arbutus wooden serving sets come in a wide range of selections, sizes and shapes to satisfy all your serving needs.
If you are looking for birthday gift ideas or ecofriendly gifts, then my salad sets will delight your recipients.
As a green, wood wedding gift, your choice will be a hit and last and last for the newlyweds. These wooden salad sets are my biggest sellers and have been used successfully for unique wedding gift ideas for a decade.
Many customers have used these salad serving sets in specialty gift baskets or even in corporate Christmas gift baskets.
And because the Arbutus/Madrone wood is so strong, your wooden serving spoons will last and last, even if they do double duty as wooden cooking utensils. Just add walnut oil or mineral oil from time to time to keep them looking great.
The beauty of the wood will enhance your salad bowls and serve up an abundance of salad! Of course, you can use just one of the pair for serving non salad dishes at any time.
• Size
Arbutus Arts wooden salad sets come in 4 sizes: small, medium, large, and extra large. This means you can easily find a set to suit your family size or salad bowl.
You can see in the picture the relative sizes.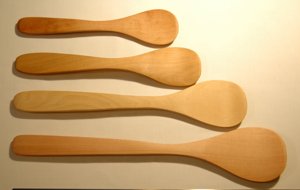 Sizes of Wooden Salad Sets

Small...approx 8-8.5" or 21-22cm

Medium...approx 9.5-10" or 24-25cm

Large...approx 11.5-12" or 29-30cm

Extra Large...approx 13.5-14" or 34-36cm

Small wooden sets are perfect for serving from small salad bowls for one to three people or for a non leafy green specialty salad like a cucumber salad or cold bean salad as examples. They are a bit bigger than my salad hands.
Medium wood salad serving sets are larger and perfect for a small to medium bowl.
Large salad sets are my biggest seller and good for an average family size and good sized salad bowl.
And extra large is for those big salad bowls where they work just great.
My salad sets will last and last for a long time because Arbutus wood is so strong and hard.
By the way, these are Deluxe selections.

• Shapes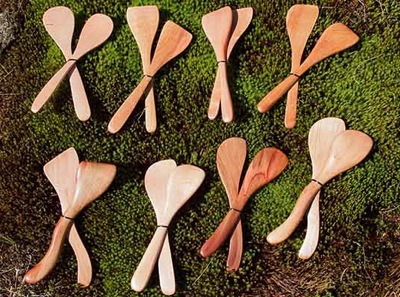 Top Row from left to right:
• Round Tip
• Straight Tip
• Angled Tip
• Angled + half round
Bottom Row left to right
• Angled Tip
S-shaped handle
• Rounded Tip,
straight handle
• Rounded Tip,
curved handle
• Rounded Tip,
S-shaped handle

2nd Choice Shape:
In case your first choice is not in stock, can we send you your second choice?
~~~~~~~~~~~~~~~~~~~~~~~~~~~~~~~~~~~~~~~~~~~~~~~~~~~~~~~

Grades Available:

All pieces of Madrone / Arbutus wood are not created equal. As you may know from other pages on this site, a wide range of grain coloring exists resulting in different grades depending on the rarity:

• Deluxe Selection...good
• Ultra Selection...better
• Supreme Selection...best

Please click here for more details about the grades available if you want to learn more.
Please click here to see the different labels for each grade.
All wooden salad sets are handmade. That means each piece is unique as is the wood grain and its colour and texture. They will not exactly match what you see in the photos. It will match the quality and styles you see in the pictures.
All salad serving sets have a natural food safe wood finish: a quality walnut oil wood finish that enriches the grain. The Ultra and Supreme Selections have an additional food safe wood finish of my special combination of walnut oil, beeswax and orange oil.
~~~~~~~~~~~~~~~~~~~~~~~~~~~~~~~~~~~~~~~~~~~~~~~~~~~~~~~

Arbutus Arts...
Hand Crafted from the BC West Coast's Spectacular Arbutus Wood
from windfalls and dead trees: Eco Friendly Wood at its best!
~~~~~~~~~~~~~~~~~~~~~~~~~~~~~~~~~~~~~~~~~~~~~~~~~~~~~~~

WOODEN SALAD SETS:
DELUXE Selection Arbutus/Madrone Wooden Salad Sets: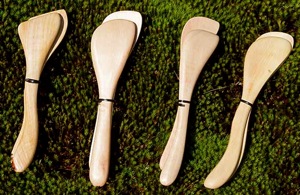 These are typical Deluxe selections, Medium size, various shapes.


~~~~~~~~~~~~~~~~~~~~~~~~~~~~~~~~~~~~~~~~~~~~~~~~~~~~~~~

ULTRA Selection Arbutus/Madrone Wooden Salad Sets: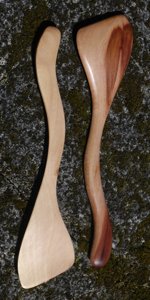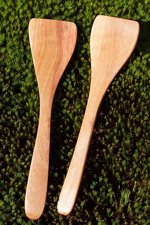 Typical Ultra selections, Large size, Straight Tip and Angled Tip S-shaped handle. A richer grain and a finer, smoother finish than Deluxe.


~~~~~~~~~~~~~~~~~~~~~~~~~~~~~~~~~~~~~~~~~~~~~~~~~~~~~~~

SUPREME Selection Arbutus/Madrone Wooden Salad Sets: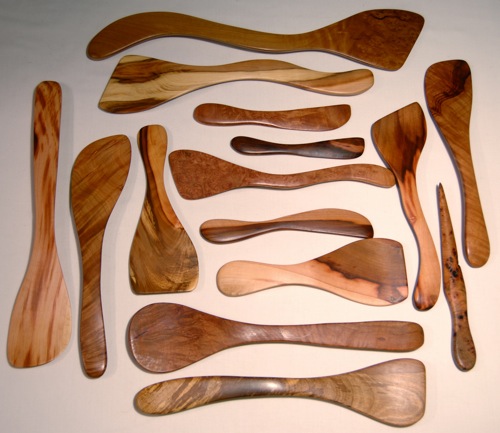 Yes these are not sets!
But!
I want you to see some samples of how incredible the Supremes are!
These are typical Supreme selections: very rare pieces in various shapes...They make great gifts for women or men or master chefs!
The reality is that I only have in stock what I have at the time. This means that your first choice may not be possible at all.
The reason is the rarity of these pieces, especially as sets.
This grade of wood comes along so rarely because of the size and old age of the trees needed (and, remember I do not cut down live trees...they have to be gifted to me by blowing down in a big storm or by dying standing before I gather them).
But if you want a memorable eco friendly gift (truly made from eco friendly wood), then one of these salad sets will surely do the trick.
When you order, I will let you know right away what the status of your order is and, if I cannot fill it as is, I will offer you my best other choice or refund your payment.
Order something spectacular below!
Here are some more Supremes...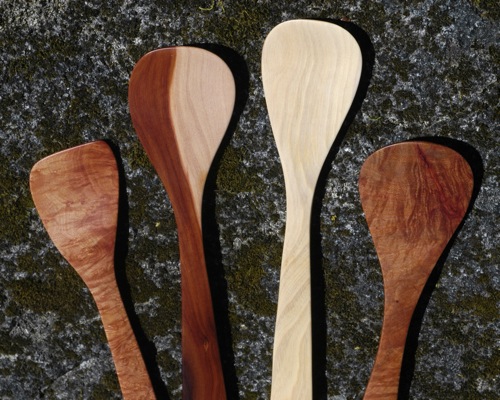 The third one is a very rare ivory-white wooden sever, one of my favorites!
~~~~~~~~~~~~~~~~~~~~~~~~~~~~~~~~~~~~~~~~~~~~~~~~~~~~~~~


Go from Wooden Salad Sets to Wood Craft Gifts Page
Go to Wooden Cooking Utensils
Go to Wooden Spreaders and Knives
Have Feedback On Your Purchase? Let Us Know!
Please share it!