The Glorious Manzanita Tree Is Technically a Bush!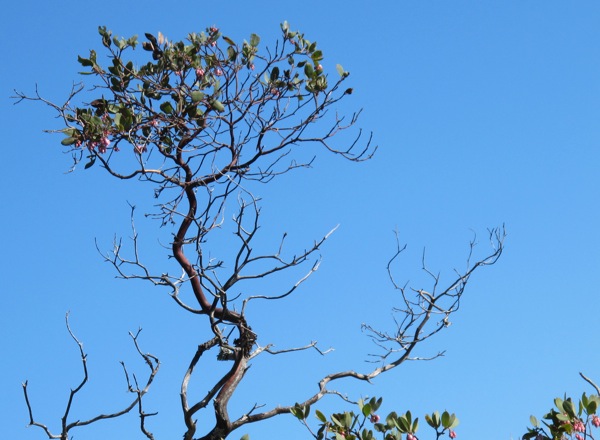 ... and not a tree!
While many think the Manzanita tree is the same as a Madrone tree, this shrub is not the same! It is a very close cousin, actually a bush or very small tree at best and can never grow to the massive size some Madrone trees can reach.
And it is not an Arbutus tree! Arbutus is from the technical name for the tree while Madrone is from the Spanish. Madrone, Madrona and Arbutus are the same thing: a tree. (Canadians prefer to call Madrone, "Arbutus" ... they're the same tree.)
~~~~~~~~~~~~~~~~~~~~~~~~~~~~~~~~~~~~~~~~~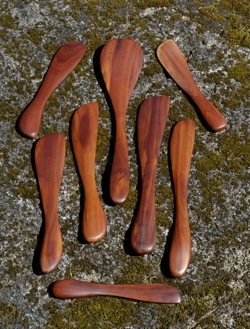 ---
Manzanita Wood Knives and Letter Openers
These exotic Manzanita hardwood crafts are made from rare pieces of shrub-aged wood. They are sanded to an extremely fine finish using 3000 grit sandpaper (the finest sandpaper most often used is 400 grit). Food safe walnut oil is applied three times and the piece is then finished with a mixture of walnut oil and beeswax.
These specialty items make lovely gifts and will last a very long time. Use our utensils for buttering, spreading and serving.
~~~~~~~~~~~~~~~~~~~~~~~~~~~~~~~~~~~~~~~~~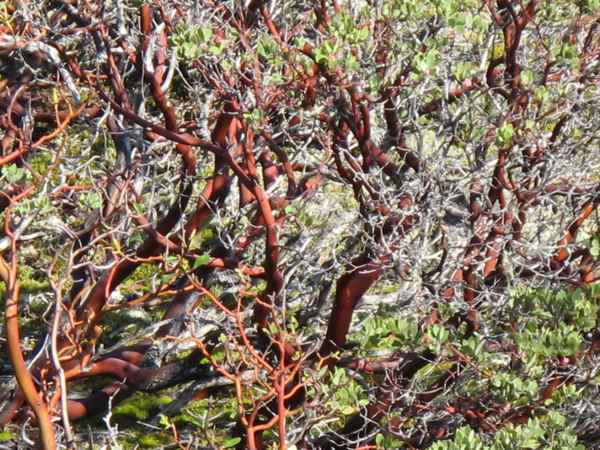 Manzanita trees grow in many of the same places as Arbutus trees (Madrone). Manzanita is a bit more particular. It prefers bluffs that are south and southwest facing for maximum sun exposure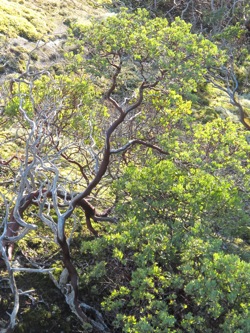 with little to hide it from direct sunlight.
And it really does resemble a shrub. It is evergreen, with very small leaves and dark red smooth bark so similar to late season Madrone bark. That is probably the reason people confuse them.
So the difference between Manzanita and Madrone is that the former is a shrub and the latter a tree! But they sure do like hanging out together, often growing side by side with the Arbutis eventually dominating because of its bigger size. That too explains why a Manzanita tree will grow where there is even less soil...a way to stake its space away from Madrone trees right on the rocky bluffs with just a little mossy soil.
In winter and very early spring they bloom with striking small white and pink flowers which turn into berries in the summer. Bees love them!
If you were a bee would you be here?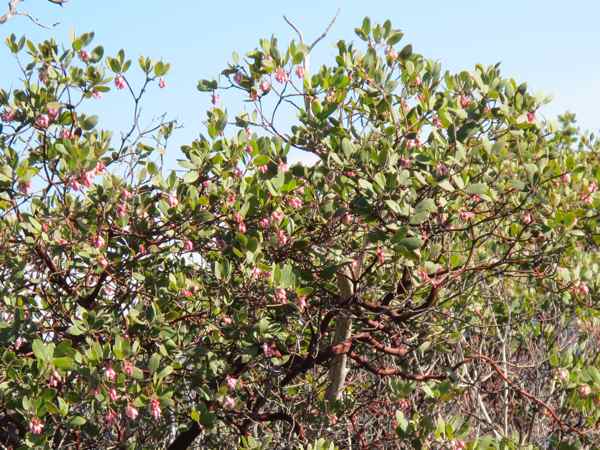 I love Manzanita wood for its deep rich-red color. It is very hard to find big pieces to make my salad sets but wooden knives and letter openers work well with the small size of the wood you find.
You see, it's the small size of the bush that prohibits big pieces...so rare to find! And the wood easily cracks as it dies slowly on the shrub. The wood changes from light whitish color to red in the process. These dead Manzanita branches and trunks produce the most awesome red colored Manzanita wood.
Because the bush or shrub grows where there is little soil (and hence less competition for space), it grows so slowly.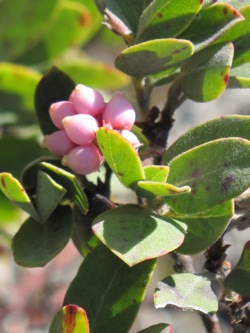 It takes centuries for it to become big enough for one to find enough usable Manzanita wood for unfinished wood crafts or wood craft gifts and art projects. That's what makes it so rare!
I have a small Manzanita growing near my house. In the 20 years I have watched it, I have not been able to detect any noticeable change in its size!
Manzanita branches twist and turn and can even do loops! When dead and dry they change color to a bleached gray and have a stark presence on the landscape.
Manzanita trees have many ornamental uses. Manzanita branches are often used at weddings for decoration. Smaller pieces are also used for bird perches.
Manzanita wood, if you are lucky enough to get some, burns very hot in your stove. Of course I only use the scraps for burning after I extract all useful pieces for making wood pate knives, small wooden spoons, or wooden letter openers and wood key chains.
Such a lovely and ideal wood for crafts, these pieces will last a long time honoring the Manzanita "tree" this way!
~~~~~~~~~~~~~~~~
Here is a painting done by my daughter, Kaima Bazar...
I turned it into a card for the Manzanita wood crafts I make for sale. The back of the card reads as below...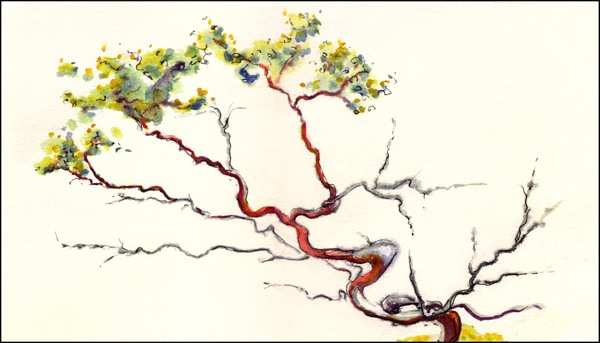 Manzanita Art
The wild and hardy Manzanita shrub grows on southern exposed rocky bluffs of the Gulf Islands, overlooking the protected inland waters between southern Vancouver Island and British Columbia's mountainous coast.
The Manzanita tree is easily distinguished by its striking gnarled branches, smooth dark red bark and small leathery leaves.
In February or March, the Manzanita tree blooms in an abundance of gorgeous small white or pink flowers. These flowers mature into berries that resemble small apples when ripe -- hence the name "Manzanita," which translates as "little apple" in Spanish.
Manzanita grows incredibly slowly; it can take centuries to reach a size where there is enough wood to make small art objects, and large pieces are extremely uncommon.
At maturity, Manzanita is usually less than a maximum of 10 feet (3 meters) in height and 5-8 inches (10-16 centimeters) thick.
Although relatively rare, the Manzanita tree/shrub is tenacious in its fight for survival. Some branches die off in drought years to keep the heart of the shrub alive; but eventually the plant succumbs to time and it dies, leaving a vivid grey sculpture of twisted bony branches from which Cortes Island artisan Ron Bazar brings this beautiful wood to life.
Live Manzanita wood is paler in color and lacks the exquisiteness of the dead wood.  By slowly dying on the shrub, the wood alchemizes --- its hue deepens to a distinct "Manzanita Red," exposing its true glory.  Live wood cut down will not change in color.
The dominant rich tones and sheer beauty of the polished wood easily rival the most exotic hardwoods in the world.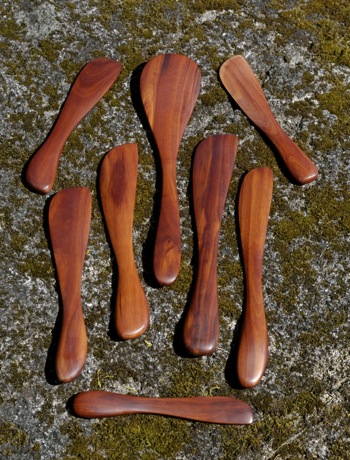 Manzanita Wood Knives and Servers
These Manzanita wood crafts are made from rare pieces of shrub-aged wood. They are sanded to an extremely fine finish of 3000 grit (most sandpapers are from 40-400 grit with the higher the number the smoother the sandpaper).
Then food safe walnut oil is added three times. The final finish contains walnut oil and beeswax. These make lovely gifts and will last and last a very long time. The knives are perfect for buttering your toast or spreading nut butters and jam or for pate.
They will quickly become your hand's favorite small kitchen utensil!
Buy Manzanita Tree Wood Here

---
What's Your Favorite Picture or Story about a Manzanita Tree?
If you have been to the west coast or live here, then perhaps you have a Manzanita tree story or favorite picture to share.

Whatever it is, please share it here!

It's easy to do and lots of fun!

And you'll have your own web page to send friends and family to check out.
What Other Visitors Have Said
Click below to see contributions from other visitors to this page...

Return from Manzanita Tree to Arbutus Arts Home Page