Arbutus Wooden Cooking Utensils
~ Wide Variety of Shapes & Sizes ~
Perfect for Non Stick Cookware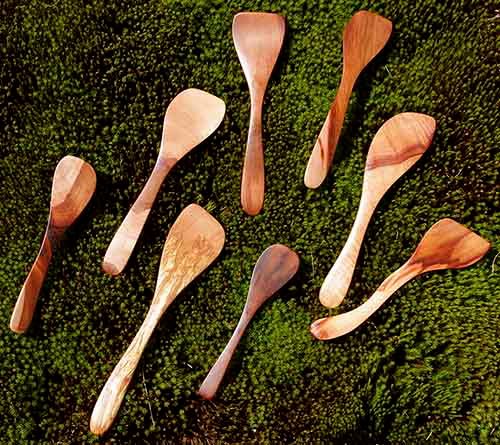 My Arbutus wooden cooking utensils come in a wide range of sizes and shapes to delight all of your culinary crafts.
Designed for all kinds of cooking styles and different size pots, pans and woks, you will find something perfect for your hand and cooking style, including left handed cooking utensils.
Wooden cooking utensils are perfect to use for your non stick utensils. They won't scratch or mar the special coatings.
And because the Arbutus/Madrone wood is so strong, your wood kitchen utensils will last and last!
Each of these wood cooking utensils, servers or spatulas can be used both for cooking and for serving at the dinner table.
Chefs will delight in the unique shapes and admire the lasting quality of the wood cooking spoons.
Hostesses will augment their serveware and fine dishes with them as well.
The different grades provide for both heavy kitchen use or for serving at dinner parties.
• Size
Arbutus Arts wooden cooking utensils come in 4 sizes: small, medium, large, and extra large.
You can see in the picture the relative sizes.
Wooden cooking utensils: my best sellers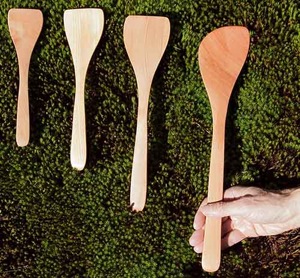 I sell tons of these! Different shapes and sizes to fit your hand and cooking utensil shape and size. Big pots need big servers while a small one is best served by a smaller server (pun intended!)

Small...approx 8-8.5" or 21-22cm

Medium...approx 9.5-10" or 24-25cm

Large...approx 11.5-12" or 29-30cm

Extra Large...approx 13.5-14" or 34-36cm

Small wooden servers or spatulas are perfect for cooking for small pots and pans and excellent for serving for small dishes.
Medium wood kitchen utensils are larger and perfect for a small to medium pot. Small and medium sizes are my favorites because I like cooking close in and most of my pots and pans are medium size.
Large servers are my biggest seller and good for an average family size and day to day cooking and serving for several people.
And extra large is for those big bowls, pots, woks and pans, and for those used to having more distance from the flame.
I guarantee your hand will reach for your wooden cooking utensils before any plastic or metal ones! It's the warm feel of the Arbutus wood in your hand that is just so appealing.

• Shapes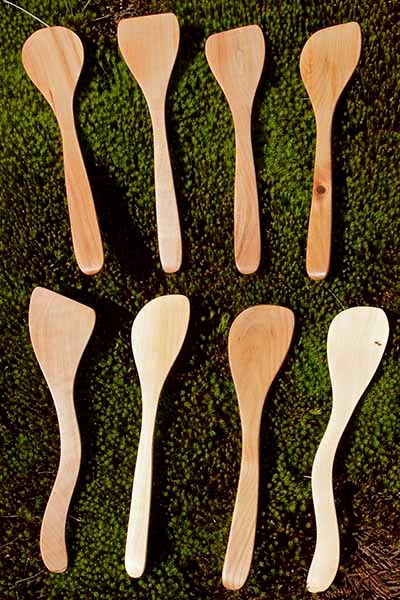 Top Row from left to right:
• Round Tip
• Straight Spatula
• Angled Spatula
• Angled Server 1/2 round


Bottom Row left to right
• Angled Spatula,
S-shaped handle
• Rounded Server,
straight handle
• Rounded Server,
curved handle
• Rounded Server,
S-shaped handle

2nd Choice Shape:
In case your first choice is not in stock can we send you your second choice?
~~~~~~~~~~~~~~~~~~~~~~~~~~~~~~~~~~~~~~~~~~~~~~~~~~~~~~~

Grades Available:

All pieces of Madrone / Arbutus wood are not created equal. As you may know from other pages on this site, a wide range of grain coloring exists resulting in different grades depending on the rarity:

• Deluxe Selection...good
• Ultra Selection...better
• Supreme Selection...best

Please click here for more details about the grades available if you want to learn more.
Please click here to see the different labels for each grade.
My wooden cooking utensils are handmade which means each piece is unique as is the wood grain and its colour and texture. They will not exactly match what you see in the photos. It will match the quality and styles you see in the pictures.
All wooden cooking utensils have a natural food safe wood finish: a quality walnut oil wood finish that enriches the grain. The Ultra and Supreme Selections have an additional food safe wood finish of my special combination of walnut oil, beeswax and orange oil.
~~~~~~~~~~~~~~~~~~~~~~~~~~~~~~~~~~~~~~~~~~~~~~~~~~~~~~~

Arbutus Arts...
Hand Crafted from the BC West Coast's Spectacular Arbutus Wood
from windfalls and dead trees: Eco Friendly Wood at its best!
~~~~~~~~~~~~~~~~~~~~~~~~~~~~~~~~~~~~~~~~~~~~~~~~~~~~~~~

WOODEN COOKING UTENSILS:

DELUXE Selection Arbutus/Madrone Wood SERVERS/SPATULAS: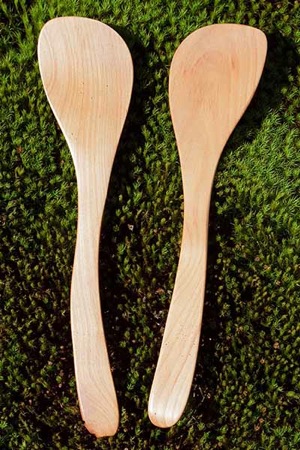 Above is a typical Deluxe selection, Large size, Rounded Server with a curved handle: a lefty and a righty.

~~~~~~~~~~~~~~~~~~~~~~~~~~~~~~~~~~~~~~~~~~~~~~~~~~~~~~~

ULTRA Selection Arbutus/Madrone Wood SERVERS/SPATULAS: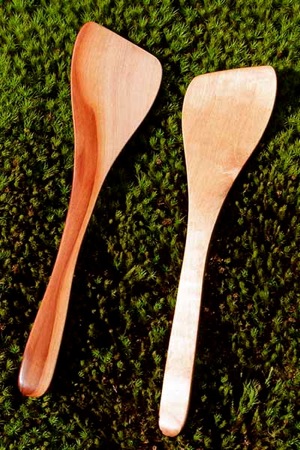 Above is a typical Ultra selection, Large size, Angled Spatula: a lefty and a righty. Wooden cooking utensils with a richer grain and a finer, smoother finish.


~~~~~~~~~~~~~~~~~~~~~~~~~~~~~~~~~~~~~~~~~~~~~~~~~~~~~~~

SUPREME Selection Arbutus/Madrone Wood SERVERS/SPATULAS: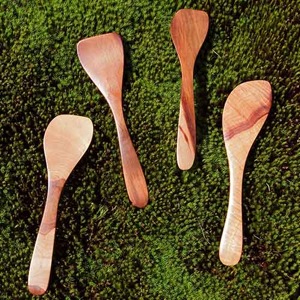 These are typical Supreme selections: very rare pieces in various shapes...
The pieces in the bottom image are from a giant burl at the base of an Arbutus tree.
It is hard to do justice with the pictures for these fine wooden serving spoons. They are smooth as silk, sanded to 3000 grit. They are a delight to use and touch, a unique utensil with a real personality!
They will make a superb women's Christmas gift or imagine adding them to Christmas food gift baskets!
They make great gifts for women or men or the chefs in your life: unusual birthday gifts or how about as a wood wedding gift? Sure to excite and please! :)

~~~~~~~~~~~~~~~~~~~~~~~~~~~~~~~~~~~~~~~~~~~~~~~~~~~~~~~

Go from Wooden Cooking Utensils to Wood Craft Gifts Page
Go to Wooden Spreaders and Knives
Go to Wooden Salad Sets
Have Feedback On Your Purchase? Let Us Know!
Please share it!