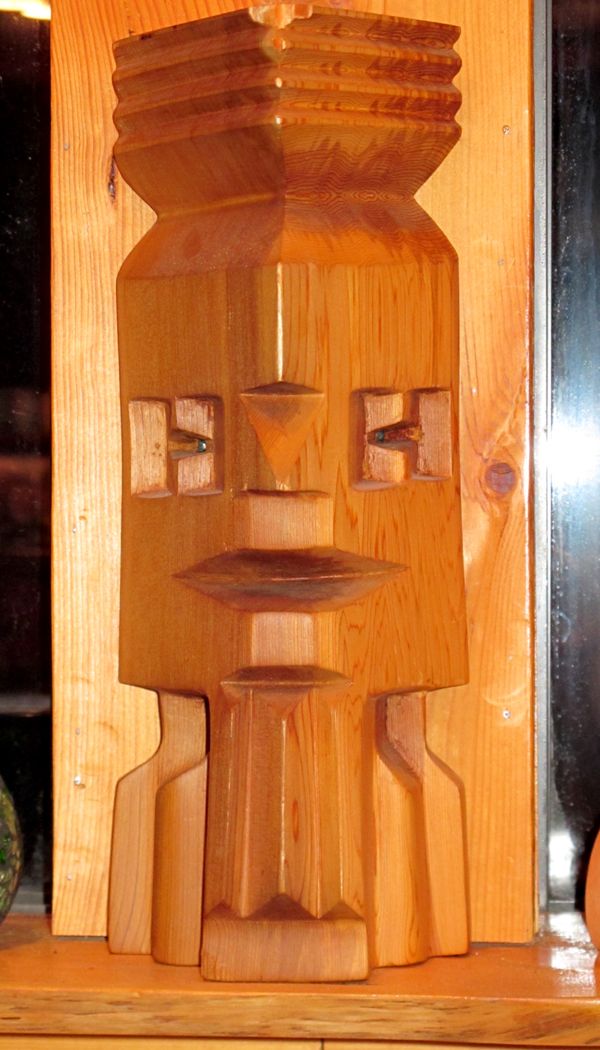 Primitive Wood Crafts --->
Unfinished Wood Crafts --->
Finished Wood Crafts For Sale
You would have to say I was making very primitive wood crafts when I first started carving wooden spoons, ! Later on as I learned about the Madrone wood and how to bring out its glory, they became lovely wood crafts for sale!
When I was 22, I traveled from Montreal to the west coast. On the way, I stopped for the night in Banff. When I awoke I picked up a piece of cedar from a firewood pile. I knew I was going to carve something even though I had never done any carving before.
I spent the summer carving this primitive wood craft Aztec/west coast face and have never done anything like it since.
I put two emeralds in as eyes to create a mysterious look. I still have no idea from whence it all came!
In my early days, I used an axe and hatchet to split and carve the rock hard Arbutus wood. It was very slow and tricky work. After very rough shaping this way, I then used a grinding sandpaper disk to remove the rough edges.
Then I hand sanded them with very rough sandpaper. I started with 40 grit sandpaper and worked my way up to much finer grits, ending at 220. The lower the number, the rougher the sandpaper.
My early primitive wood crafts!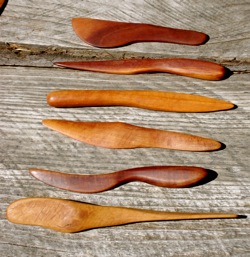 When done, the pieces were still pretty primitive wood crafts! The features were not well defined, the handles were not as comfortable as they have become over the years and the shapes were not yet ideal.
But these unfinished and primitive wood crafts were how I began and they slowly evolved into the more refined and sophisticated wood crafts for sale that I now make.
When I had a bit of an accident with the axe and needed four or five stitches, I knew it was time to learn about some woodworking machines. That enabled me to work safer and to become more productive.
My primitive shapes and unfinished wood crafts evolved more and more as I learned about the Madrone wood and its idiosyncrasies!
I learned I had to allow the wood to show me what it wanted to become. I had to understand the grain to find the best way to enhance and show off its beauty.
I had to work with the piece to shape the ideal size from the rough wood lumber to work around any cracks or poor features. On some raw wood I had to cut away the decayed parts, sometimes containing all kinds of bugs to reach the good and clean wood inside.
Sometimes I was lucky enough to discover some amazing colors and patterns in the wood. And so began the different gradings I use for my wood crafts.
You see, all arbutus wood is not created equal. It is an ideal wood for crafts. Such a huge variety of color, texture, grain figure and unique features yield a wide range of finished product.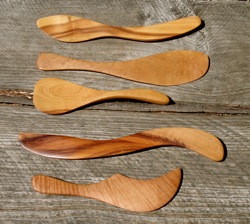 These homemade wood crafts began to need more quality control and grading.
Later I will go in to details about how I grade the finished wood crafts and art sculptures that I make.
They sure were unfinished primitive wood crafts in those early days!
Eventually I started to add a food safe wood finish that made all the difference.
You see wood loves oil! It drinks it up. The oil protects the wood and makes the wood gleam bringing out its grain to see. "Happy wood" I call it then!
Walnut oil is the perfect food safe wood finish. It is a completely natural oil and a drying oil. That means after you apply it, it will dry overnight unlike olive oil and many others.
It is absorbed into the wood and when dry is not sticky. The other advantage of walnut oil is that it has virtually no smell. It enriches the wood with every application.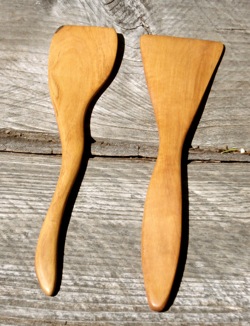 So add your walnut oil often and feel confident that you have a food safe wood finish.
You can buy walnut oil at most grocery stores or health food stores. It also makes a great salad oil. I like to keep it in the fridge so it is always fresh.
Walnut oil was used extensively in Europe as part of the French polish finish for furniture and other household items. Those antique Louis XVI had walnut oil on them!
Be wary of glossy finishes on your wooden kitchen utensils. It often is not really food safe as it will little by little come off with use.
Another good food safe wood finish is mineral oil. It too has no smell and will dry after application. It is far cheaper than walnut oil but it is a petroleum by product. It is food safe. I just prefer the all natural walnut oil for its superior features.
Whichever oil you choose, even olive oil, use often as your wood dries out with washing and use. So add oil to your wood cutting boards and wooden utensils as frequently as you can to keep them looking great!
Walnut oil is easily my favorite oil to use on unfinished wood crafts especially on those requiring a food safe wood finish.