Rare Eco Friendly
Pendant Jewlery
from the Sacred Arbutus Tree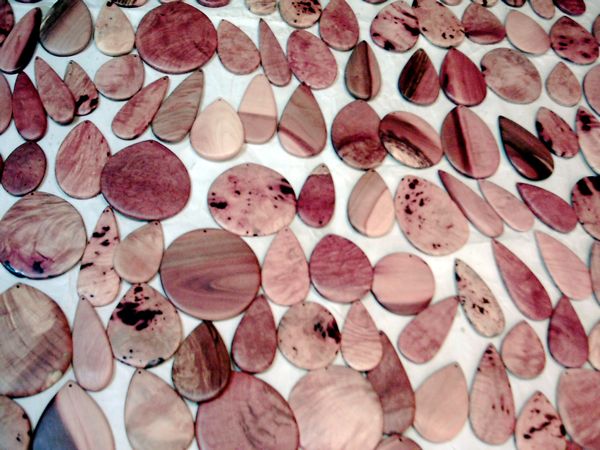 This picture of pendant jewlery freshly finished with tung oil shows the incredible variety of grain textures, colors, and shapes found in the wood of the sacred Arbutus/Madrone tree, perhaps the most spectacular of the trees of the Pacific Northwest.
Women and men both love these wooden pendants. The feel of the wood and the glory of the grain appeal to both.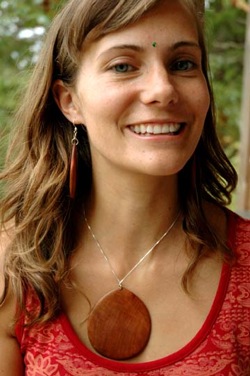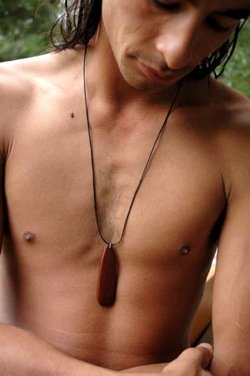 Pendant Jewlery on the Cover of Readers Digest!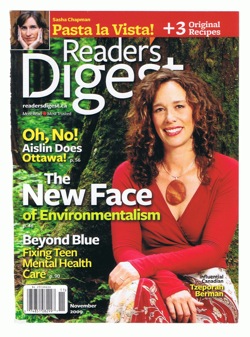 As an eco friendly fashion statement, many have found that their sacred pendant is not only gorgeous but also has a sense of power.
Here is a cover picture on Readers Digest of a woman who is famous for her environmental work protecting the forests of the world: Forest Ethics.
Guess what wood pendant she is wearing?
It is #4 off-round (see just below for shape details).

It is a big wooden pendant that stands out.
Power pendants for powerful women!
ArbutusArts pendant jewlery comes in 8 different shapes and 3 grades, so you will find something to fit your budget and sense of style.
Perhaps it is the uniqueness of each pendant that makes the wearer love their necklace.
I constantly get rave reviews from customers who tell me how special it is to them or how many people notice it and remark about it to them.
I am sure you will find a shape and style that suits you and your budget.

Shapes and Sizes:
You have 8 shapes to choose from. The heights listed give you the approximate dimensions, which do vary a bit due to fine sanding differences.
They will look much nicer than this poor tracing I did! See the images in the photo below for examples.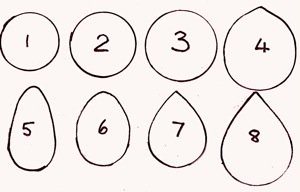 #1 small round ... 2.25" or 5cm
#2 medium round ... 2.5" or 6cm
#3 large round ... 2.75" or 7cm
#4 off round ... 3" or 8cm
#5 oblong ... 3" or 8cm
#6 oval ... 2.75" or 7cm
#7 medium tear drop ... 2.75" or 7cm
#8 large tear drop ... 3.5" or 9cm


Grades: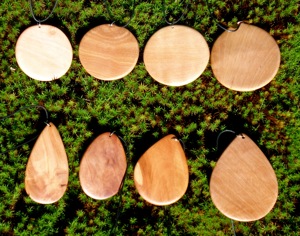 Stunning and unique pieces of wood...

All pieces of Madrone/Arbutus wood are not created equal...
...as you may know from other pages on this site, a wide range of grain coloring exists resulting in different grades depending on the rarity of the wood:

• Deluxe Selection...good
Examples of this grade are on the right...
...they match the shape numbers above.
An economical and excellent choice for a lovely wooden pendant necklace.

• Ultra Selection...better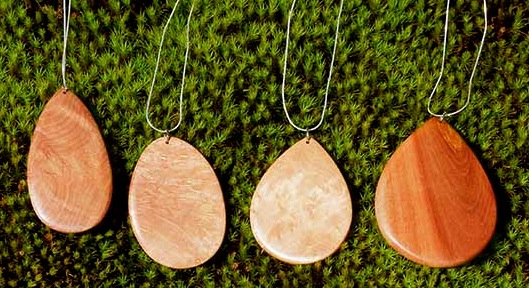 You can see these Ultras are richer in tone and finish than the Deluxes.
They are also sanded a bit smoother.
The silver chain adds a fashionable look.

• Supreme Selection...best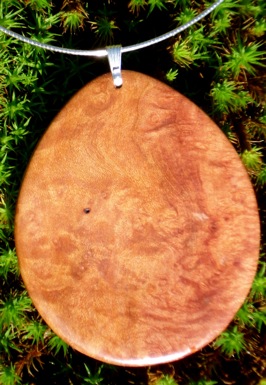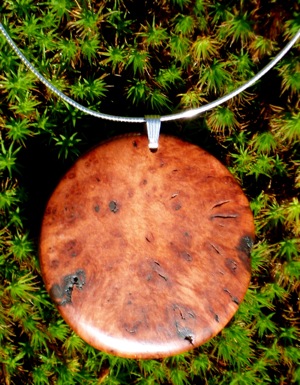 These are two lovely examples of Supreme pendant jewelry. The wood is from the burl of a giant Arbutus tree that came down in a big storm.
They are sanded and then polished to an even finer finish than the Ultras.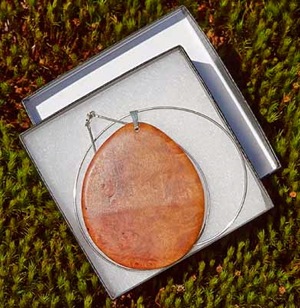 Such beauties are rare indeed and you will find them to be one-of-a-kind treasures!
They come packaged in a gift box like this:

More Info on Selections:
In addition to the wood, the degree of fine finishing adds a quality dimension.
The higher the grade, the smoother the finish.
They are all smooth, but the Supremes are, well, just divine!

Necklace Chains:
• Deluxe Pendant Jewlery / Necklace comes with an adjustable black cotton cord.
• Ultra Pendant Jewlery / Necklace comes with an 18" Italian Sterling Silver (4.2gm) Groto 25 round Snake chain.
• Supreme Pendant Jewlery / Necklace comes with an 18" Italian Sterling Silver (5.9gm) Omero 125 round chain which holds its oval shape.
These Sterling Silver chains are very high quality and expensive grade chains.
Please go here for details about the grades available if you want to learn more.
All wooden pendants are handmade! This means each piece is unique. They will not exactly match what you see in the photos. It will match the quality and styles you see in the pictures.
Remember that the wood I find is extremely rare from burls on the biggest of trees that have died. The result, eco friendly wood, yields spectacular pieces, often very small, perfect to make wooden pendant jewelry. Your piece will be a one-of-a-kind gem!

Card Insert:
Your pendant jewlery comes with an attractive gift card.
Here is what the 2 sides of the card look like: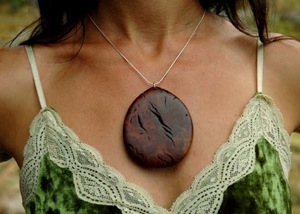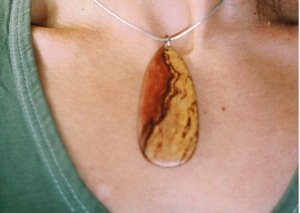 ~~~~~~~~~~~~~~~~~~~~~~~~~~~~~~~~~~~~~~~~~~~~~~~~~~~~~~~

Arbutus Arts...
Hand Crafted from the BC West Coast's Spectacular Arbutus Wood
from windfalls and dead trees: Eco Friendly Wood at its best!
~~~~~~~~~~~~~~~~~~~~~~~~~~~~~~~~~~~~~~~~~~~~~~~~~~~~~~~



ARBUTUS/MADRONE WOODEN PENDANT JEWLERY:

~~~~~~~~~~~~~~~~~~~~~~~~~~~~~~~~~~~~~~~~~~~~~~~~~~~~~~~

Please share your comments for others to see.
I am sure other visitors would love to know what you think about this page or the pendants if you have one.

Please share it here! It would be great if you could add a photo as well.

It's easy to do and lots of fun!

And you'll have your own web page to send friends and family to check out.

My Arbutus wood pendants are unique. I don't think you can find them anywhere else.

And the wood that I use to make them comes from some of the rarest pieces that I save. And often it is only the smallest pieces of the wood that can be so spectacular.
~~~~~~~~~~~~~~~~~~~~~~~~~~~~~~~~~~~~~~~~~~~~~~~~~~~~~
Here is the place where you can opt in to my newsletter and get updates and inside news. I will also be able to send you info on special offerings or contests with prizes where you can compete for best photo in different categories as an example. I will let you know when this happens. Just add your email here:


Have Feedback On Your Purchase? Let Us Know!
Please share it!


Go from Pendant Jewlery to Wood Craft Gifts

Go to Sacred Trees