Arbutus Flower Inspires Haiku
by Ken Chawkin
(Fairfield, Iowa, USA)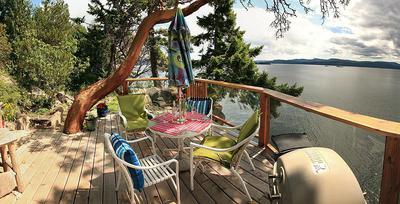 About 20 years ago, a friend of mine took me on a holiday weekend getaway to Galiano Island. We stayed at The Cliffhouse Cottage. It was beautiful there! I remember sitting on the deck at dusk looking out over the tranquil ocean. Everything was completely still. Quiet. I heard a small sound, like something had fallen from somewhere, and wondered what it was. I bent down and found a small white flower beside my chair. It resembled a tiny bell. I then looked up and saw a cluster of flowers in the tree above me. My friend said it was an Arbutus Tree. The experience inspired this haiku.


Cliffhouse Deck at Dusk

Tiny bells call me
Arbutus blossoms falling
Sounding the Silence

© Ken Chawkin
This poem was later published in The Dryland Fish, An Anthology of Contemporary Iowa Poets. It was part of a collection titled: 13 Ways to Write Haiku: A Poet's Dozen. You can see them posted at The Uncarved Blog.
My friend, Betsy Randel, also painted some Art Cards of the Arbutus Tree and The Cliffhouse. You can see them in the Island Life Art Cards section of her website, Art that Heals.