Blazing A Manzanita Trail
by Karla Locatelli
(Scotts Valley, Ca)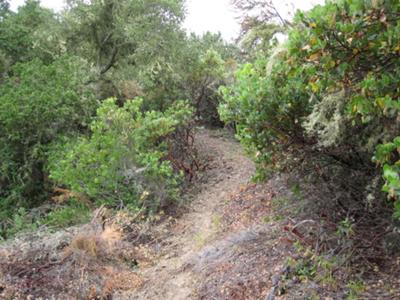 Manzanita trees
Several months ago we decided to blaze a trail to the caves so I could complete my photo book about the caves at Whalebone Gulch. I now call it the Lady Gaga Sisterhood Manzanita trail as we literally carved a pathway through thick old growth Manzanita. What a spectacular upward excursion we endured.


I was breathless for two reasons: the scrambling sliding ascent and the glorious gorgeous mossy lichen adorning the Sisterhood of Manzanita. Lady Gaga's entire family was there waving us onward and upward. All the while I'm admonishing my husband for chopping off precious limbs; I thought he finally got my drift and chose other obstructions to remove. However, when I rounded a corner and saw Big Bertha with a few amputated limbs, I went ballistic; such a beautiful elderly Manzanita, the matriarch of Lady Gaga's clan. As I calmed down and gazed through her limbs, I saw the distant caves in the morning mist. Oh my, such unique vistas, well worth the heart-pounding struggle to see this.
We will need many more such endeavors to complete this trail. John intends to skirt up an old Oak tree at the top of a knoll or should I say little mountain, so we can view the entire valley. Yes, indeed he is a man on a mission. Soon I will be able to reach the caves easily for photographing.
As I reviewed my photos at home, I realized that I had captured a truly unique view of the gorgeous Manzanitas that line our highway to the sky. The backdrop is the spectacular caves but the twisting, moss and lichen covered Manzanita beacon you onward and upward.
At 70 the onward is easy but the upward is definitely more challenging. I want to linger and take many photos while my companions want to hurry the ascent to see the ultimate vista. I like to get up close and personal; greeting and appreciating each new Manzanita I meet.
Truly, I can't convey the emotional connections I feel with these most enduring, gorgeous specimens. I want to document their survival while all the while I want to touch their beautiful bark. Sometimes it is just too much. I realize I'm in heaven already and I am blessed to have this glorious opportunity to make such wonderful friends before my final onward and upward journey in my life.
Irish Eyes Smiling from Whalebone