Is this the Madrone or Arbutus Tree
by Deborah
(Shalimar, Fl)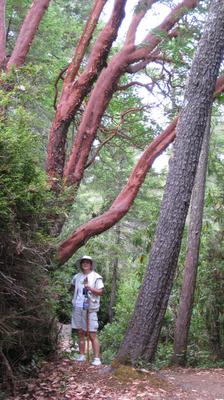 Hi Ron


In 2010 we were staying at Eel Creek Umpqua Campground in Oregon and while there we took a picture of this tree I uploaded to you, I'm standing right under it. I think it is the Madrone or Arbutus tree but was wondering if you could confirm that for me.
The picture with a limb sanded and polished was one I took in the campground that a man had finished...wish I had gotten more info from him. I brought home a limb that has a lot of character with knots and a burl and wanted to sand and finish it for display at our house. I have started the sanding process by hand using 100 grit sandpaper and also using a palm sander and dremel tool (picture enclosed).
Do you think this is the best way to clean it up or is there a better way to go about it? I know it will take some time to finish but that is what I want to do. Any information would be greatly appreciated.
Thanks
Deborah
------
Arbutus Ron here...
Hi Deborah,
It sure is an Arbutus tree or Madrone tree ( same thing different name...I have several nicknames too!)
Any tool that makes your sanding easier is the way to go. But sometimes hand sanding would work fine. Fold a sheet of sandpaper after cutting it in half (so now you have a folded half which is 1/4 the size), cup it in your hand and slide it up and down the branch. That should do it. Then go to 150 grit and then 220 and that should do it.
Add some mineral or walnut oil and it will glow!