Madrona Mia True Love?
by Karla Locatelli
(Scotts Valley, Ca.)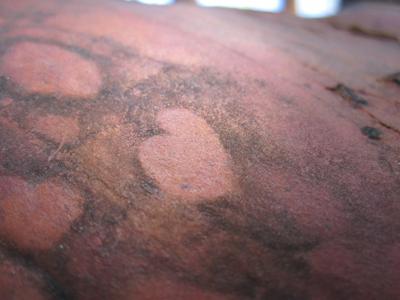 My Heartthrob Tree
Madrona Mia loves me…she loves me not…she loves me… Yes, my cherished cluster of Madrones I've adopted gave me a universally recognized sign expressing their affection.


Imagine my utter disbelief and joyous surprise to see a tiny perfect heart on the outstretched limb I had photographed weeks before without noticing its distinct shape. This photo session I captured the image very clearly.
Life is amazing if one just opens one's eyes and heart (so to speak) to Nature's endearing moments.
The following Sunday I anxiously went back over to my heartthrob tree…Uh, oh…You guessed right. The Madrone limb had already begun its continual ritual: the big PEEL.
Madrones seem to go through this peeling process to maintain their silky smooth wrinkle-free (almost) skin. I wish my skin could do that! They say wrinkles indicate character. But, I think I prefer the majestically smooth Madrona Mia character.
My little heart may well vanish by next Sunday. I feel blessed however, for two reasons: perhaps my special trees love me back. And my husband's birthday is on Valentine's Day…a coincidence? I think not.
Irish Eyes Karla……. Smiling from Whalebone.