My Celebrity Manzanita Lady Gaga
by Karla Locatelli
(Scotts Valley, ca)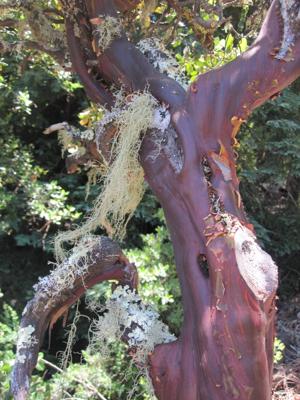 Lady Gaga
Last Sunday I decided to spend my time at Whalebone scouting out and photographing the Manzanita bushes near our upper campsite.


John told me there were rather large root balls left behind by the previous owner lying near the cliff edges—like huge Easter eggs! He thought they would make perfect salad bowls for someone with advanced carving skills. Know anyone?
As I looked around one trimmed-up Manzanita tree, somehow spared, caught my eye. Smiling out loud, I began taking photos. Here, in this remote wilderness , was Lady Gaga all decked out in her bizarre, outlandish costume of wild Medusa hair, lace boas, and lichen jewelry pinned everywhere, intertwining her glowing bare limbs.
Yes, we truly have a celebrity Manzanita.
And Easter eggs too!
Irish Eyes Karla…smiling from Whalebone